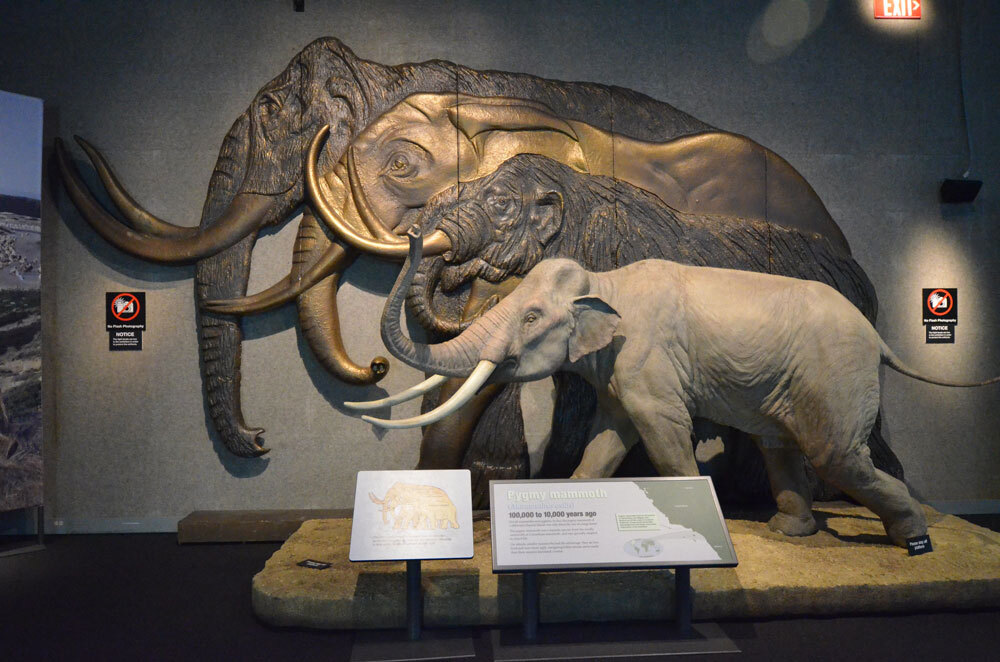 Should we be able to schedule Mastodon posts just like any other network? (Chris Devers/Flickr)
Hey all, it's day two of our Mastodon pop-up, and interest in the service is continuing to grow.
Thanks to everyone for the early response—and if you have been forwarded this newsletter, be sure to sign up for MidRange, as I will be covering this for at least the next couple of issues. I send this newsletter three times a week, with the next issue hitting Thursday. (I'm giving up the chance to write about the 2022 midterm elections in a timely fashion to write about this!)
Anyway, it's a brave new world where Kathy Griffin is asking for technical support from fellow users and Mastodon is averaging more than 100,000 new users per day. Per SensorTower, the Mastodon iOS app is the most popular social networking app for the iPad and ranking in the top 50 for free apps across all categories on both iPhone and iPad. (Gargron is working on some of the slowdown issues that have come with that growth.)
Mastodon is going viral, and as users, we're along for the ride, even if there still are a few quibbles about the onboarding experience.
---
In Case You Were Wondering …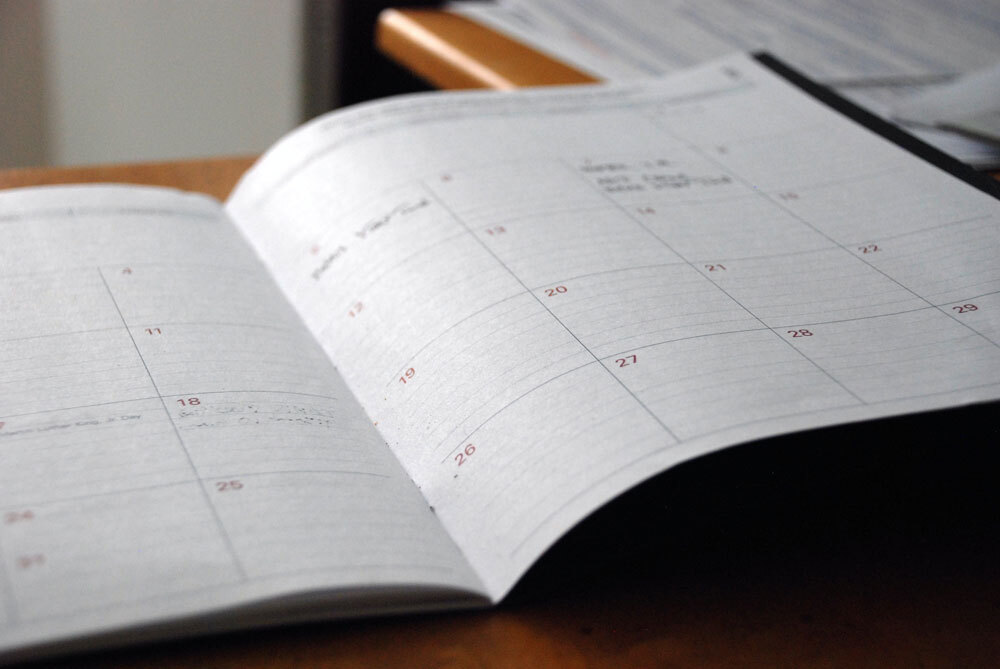 People are used to scheduling social media comments ahead of time on other networks. (Eric Rothermel/Unsplash)
Mastodon is a social networking tool that's been around for years. So where are the post-scheduling apps?
You might be wondering with your new Mastodon account—awesome, but I like scheduling my posts. What am I to do?
Let me just start out by saying that the community is in a very sensitive spot right now, just growing, and you may want to consider taking a breather on a marketing-driven approach, which post scheduling is often associated with. When I posed the question to my feed last night, some balked.
But feed scheduling does have some legitimate uses beyond just commercial. Either way, as with any tool, consider how the community will take to it.
But for those who do want it, there's a mixture of good news and bad news here. The good news is that Mastodon has an amazing, well-documented API that's pretty easy for a reasonably technical person to figure out. And turning on an API integration is as easy as setting up an application with modest read and write access.
But most people don't want to mess with an API just to schedule posts hours into the future, and I don't blame them. People who want to schedule posts want to have the ability to set it and forget it—and one of the few options out there seems to be designed more like a timer than a calendar. (There are some mobile apps, such as Fedilab, that scratch this itch, though they're not set up to be used like a big calendar or kanban app.)
Mastodon isn't really designed for this right now, in part because it hasn't really been a commercial network. But as folks who do leverage scheduling and automation on Twitter appear, are they without options?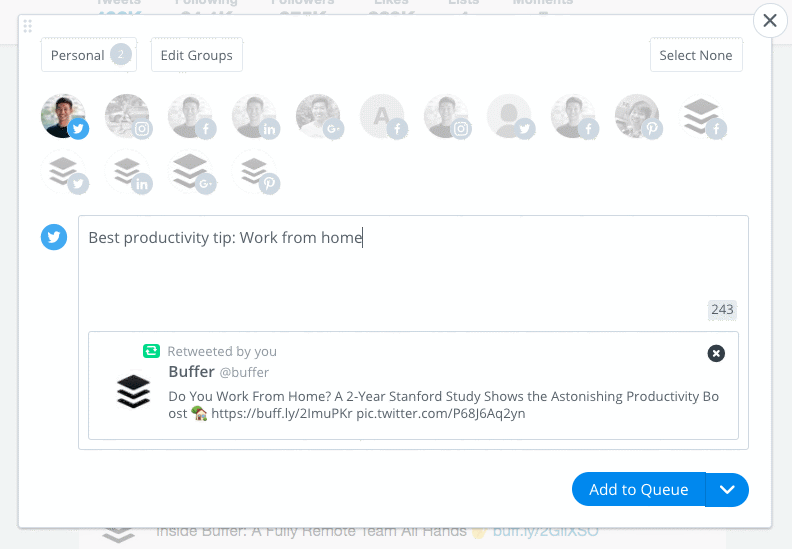 Should Mastodon just be another option for Buffer users?
I sent a few press requests out in the off chance I'd get any info on the possibility of a Buffer or HootSuite integration. HootSuite shot over a quick denial, saying it did not currently support Mastodon on its platform. (Their focus may be elsewhere; the company is dealing with layoffs at this time.) Buffer did not respond to requests for comment, but Phil Agnew, a product marketer for the company, shared in a tweet that the company was looking into it as a potential option.
I also fruitlessly reached out to Zapier, the company behind one of the best known low-code integration platforms, and a service I use personally for just about everything, just to see if they would offer a more polished onramp to Mastodon. But technically you don't need a native integration if you have a paid plan with Zapier, as Mastodon can plug directly into webhooks, a standardized API interfacing technology.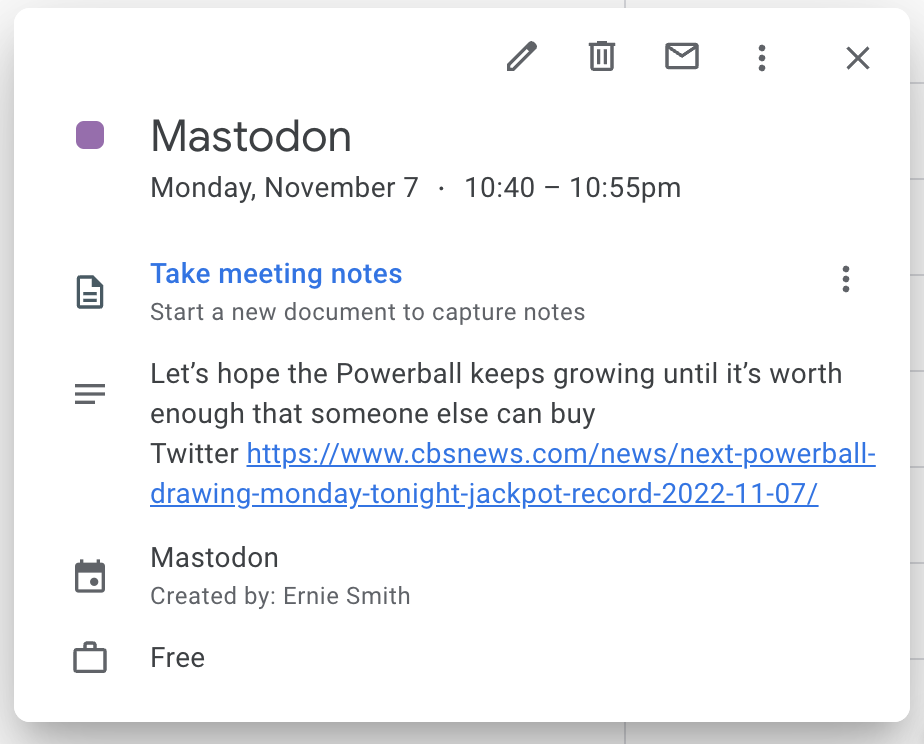 This is how I spend my evenings.
I tend to use Zapier for everything, and I have an integration set up that allows me to share RSS posts as a status on Mastodon. And there are some weird directions you can take this. Last night, I experimented with the idea of setting up Google Calendar to auto-send items based on a set schedule for a specific calendar. It would not be fun to use and did not support image uploads, but it totally worked, even if it is nowhere near as slick as a standard scheduling tool.
If you want to get more in the spirit of the Mastodon FOSS ethos, another great alternative for Zapier that can be freely hosted is n8n, which is a tad more complex than Zapier but has much of the same feature set.
So to put this all in long-story-short mode: We're not quite at the point where a regular person could schedule posts, but it's totally possible to do if you know something about APIs and protocols.
---
Tips & Tricks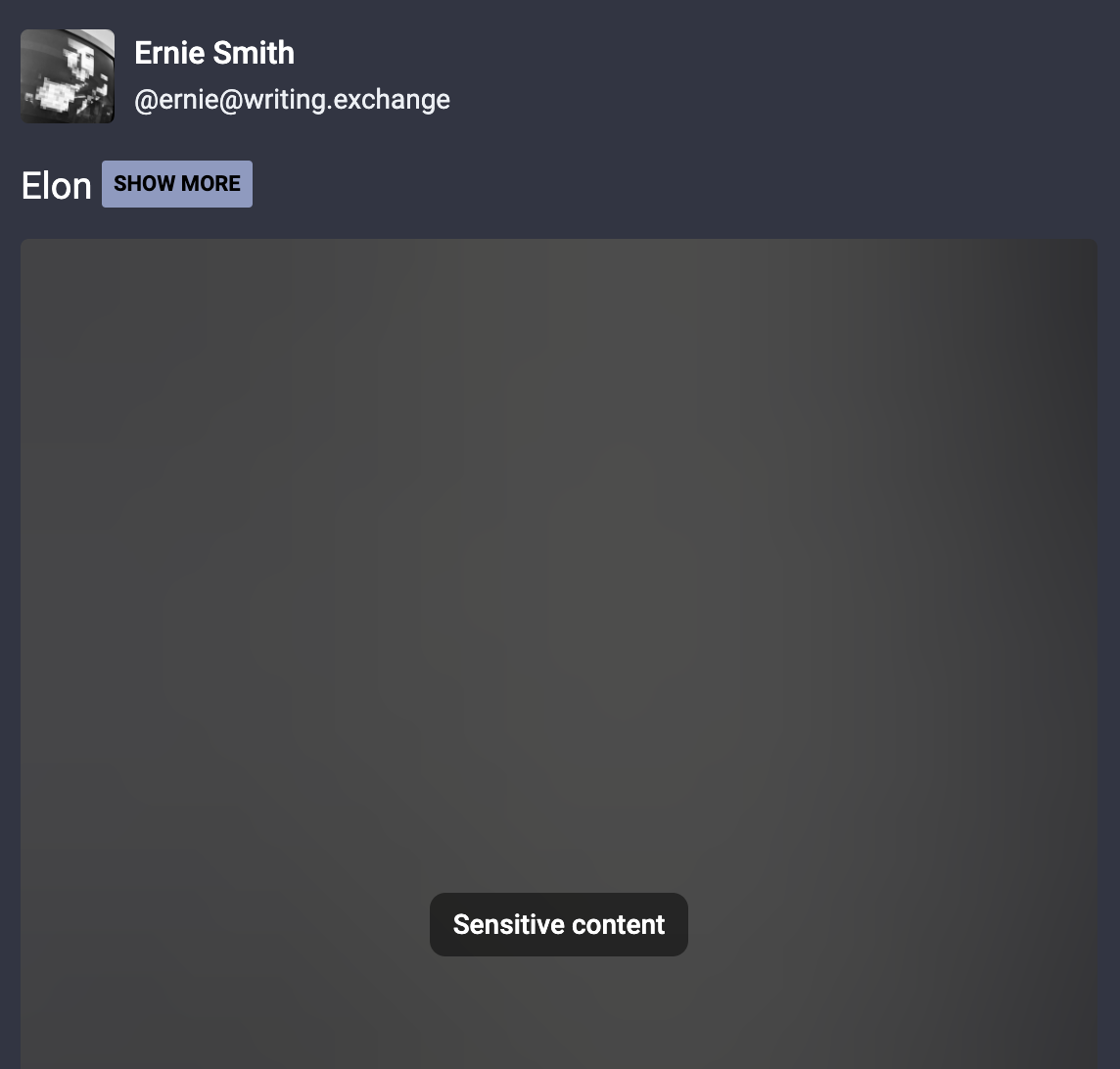 The etiquette of content warnings
In the past day or two, a pretty solid discussion emerged around the concept of content warnings, a feature unique to Mastodon that is similar to a spoiler feature or a trigger warning elsewhere. It exists in part so that people who don't want to engage in certain kinds of content don't have to.
These warnings have evolved into the way that news is discussed on these platforms. If a story like a shooting or a political discussion comes up, or perhaps even a news story people are overwhelmed by, it is an expectation that you hide the bad stuff behind an extra layer.
Content warnings are a big differentiator of Mastodon compared to other similar platforms, and if used well can be used as a way to help minimize the discussion of mentally taxing things. This is an interesting enough tool that it's the target of some academic research.
There is, admittedly, some debate over how these warnings get used in practice. Some, such as blogger Karl Voit, suggest that content warnings only get used in more extreme use cases. But ultimately, Mastodon leaves it up to the user, which makes comments like Voit's suggestions, not hard-and-fast rules.
But given that this is a community people are joining quickly, it is important to follow norms. As journalist Adam Davidson explained in an announcement on the Journa.Host server this week, "We are, of course, a bunch of journalists and we are very pro-news. This is just a way to be respectful of our new neighborhood."
---
Links & Stuff
» Find the discoverability of the default Mastodon app to leave a little to be desired? Instances.social can help you narrow in on a server.
» And speaking of discoverability, did you know that Mastodon is just one small element of the fediverse? The site Fediverse.Party can give you a 10,000-foot view of some of the largest federated social media networks.
» Looking for some people to follow? The website Fedi.Directory breaks down a number of users with specific interests by category. No algorithms here; the list is curated by a person.
---
One Killer Take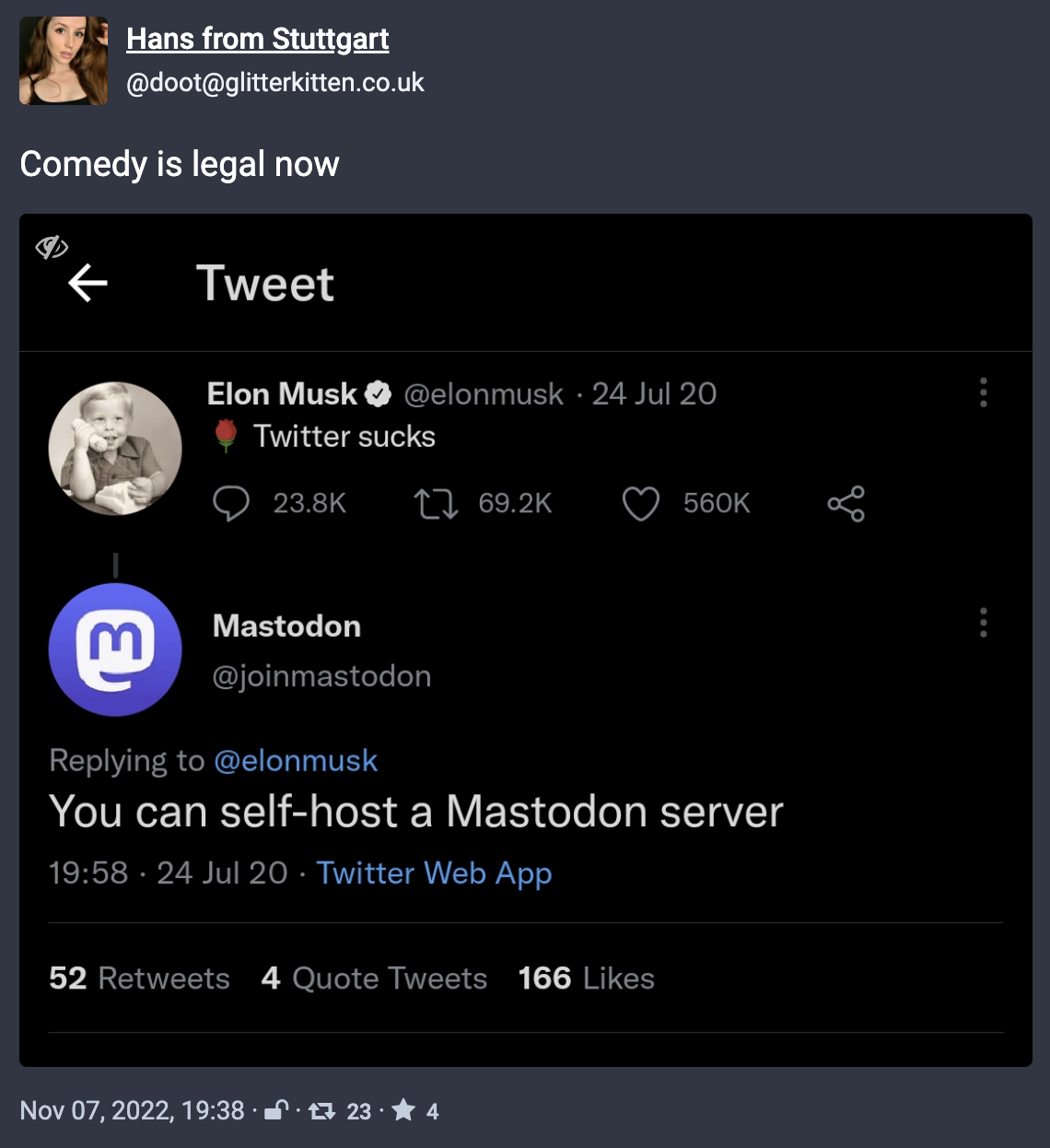 We could have been in a much different world had Elon just taken this advice back in the summer of 2020. And yes, it's real.
---
Alright, that was issue number two of How To Mastodon, a pop-up newsletter hiding inside of MidRange. Follow me on Mastodon for more insights and tips, along with all the other weird stuff I'm interested in.